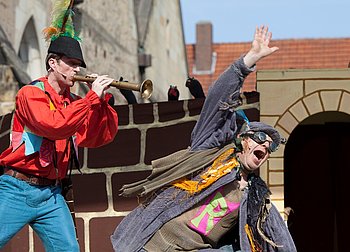 Hamelin was happy as the Legend of the Pied Piper made it onto the list of Intangible Cultural Heritage of Germany in 2014. "A great success and an important win", spoke Mayor Claudio Griese.
"Now we begin the long path to World Cultural Heritage" said Harald Wanger, CEO of Hameln Marketing und Tourismus GmbH. The first stage was reached in April of 2014, as the Piper was listed as cultural heritage in Lower Saxony and was passed on to the national comittee.
"This tradition is kept alive by the efforts of the citizenry and reflects the cultural diversity of our province", justified the Lower Saxony Minister for Science and Culture, Gabriele Heinen-Kljajic. Germany joined the "Convention for the Safeguarding of the Intangible Cultural Heritage" in the year 2013. Hamelin's application was completed with extensive help from the citizenry and given the committee in November of 2013.