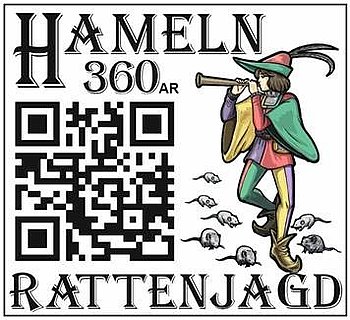 That's new! Hameln360AR, the Hameln App with the Rat Hunting game.
Just in time to celebrate the rat year in China, the Hameln App appears. The Chinese have the Year of the Rat every 12 years, we in Hameln every day! Nowhere in the world is the rat loved more than in Hameln. It appears everywhere in the Pied Piper's town.
App users can explore Hameln from their sofa, check on events, order pamphlets and see a lot of information online. When you visit the city, the opportunity opens for you to be the Piper and hunt the rats. Ok, that didn't work out well 700 years ago, but this time the businesses of Hameln are keeping their promise and offering rewards for good work: Successful hunters have a chance at discounts and bonuses. Details are explained in the app. We wish you a successful hunt but remember: Rats are sly and fast. That is why they are the first sign in the Chinese Horoscope. The story can be found here.
Not that rats are hard to find in Hameln, we have photographed some for inspiration.