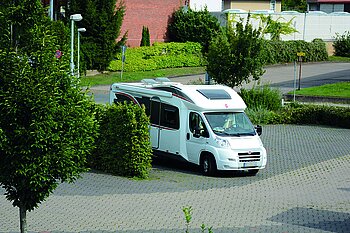 Along the river and just a short walk from the old town is where our Motorhome Site is located. A great place to start your excursions.

Ruthenstrasse 14, 31785 Hameln
Geo-position 52.096158, 9.358229
Features:
• Information Point
• Pay Machine
• Paved and lighted area
• Water and Refuse
• Trashbin
• Electricity for each position (RWD)
• Single spaces from 8 to 12 Meters
• TV (DVBT) and Satellite reception possible
Charges:
3 hours per vehicle 3 Euros
each hour more 1 Euro
24 hours per vehicle 8 Euros
100 Liters of Water: 1 Euro
Disposal: no charge
Electricity: 8 hours per connection 1 Euro
Open Daily! No reservation possible.
In the interest of all visitors, you may not hold a spot open.