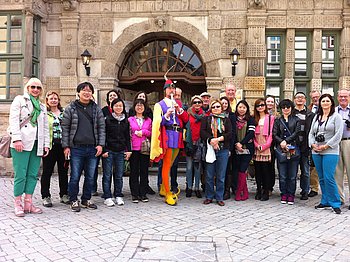 A visit to Hamelin without seeing the Pied Piper? Unthinkable. The story is proported to be the most widely known legend in the world. Can you escape the charms of the colourful Piper? Meet and greet him to find out.
The Pied Piper welcomes you to his town, telling his story with music and poetry. You've always wanted to ask how to charm rats or where the children have gone? This is your chance to meet a living legend.
Length: 10 Minutes at the Tourist Information or a location of your choice
Price: 75 Euros Are you ready to meet the Piper? Book online here
Price after 8pm: 95 Euros A very special evening! Book here online
You may order children in Rat Costumes at certain times to enhance your greeting. Further information here.