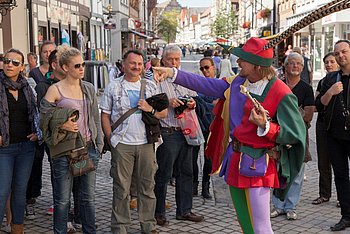 Jovial and colourful he passes through the streets, but his aims are mysterious and the story has no happy end. It is said that the Saga is the most well-known in the world and charms the young and old. You can take up the path of the Piper in Hamelin - he will lead you personally!
Smile, Shiver and be Stupified! Surrounded by alluring music, follow the Piper to the ancient scenes of the crime. Travel through time on a roller-coaster of emotions.
Length: 60 Minutes
Price: 12 Euros per Person, children under 12 pay 6 Euros
Dates for this tour done in the German Language:
April to October: Fridays and Saturdays a 5:30pm from the Tourist Information Office
Sundays at 12:45pm from Kurie Jerusalem
For an English-Speaking Pied Piper Tour of one to thirty participants, see here.